August 2004: Timing Edits in iMovie
In the August 2004 installment of "Digital Hub," I show how to use iMovie 4's new features -- direct trimming, timeline snapping, and bookmarks -- to time your edits to a soundtrack.
You can view a one-minute movie (1.5MB) that I made using these techniques.
By the way: On the latest edition of my book/DVD, I devote the entire iMovie segment of the DVD to these editing techniques. Learn more about The Macintosh iLife '04.
February 2004: Time-Lapse Movie Examples and Animation Links
In the February 2004 installment of "Digital Hub," I look at tools and techniques for creating time-lapse movies and stop-motion animation.
Here are some example movies that I created in the course of researching and writing the column.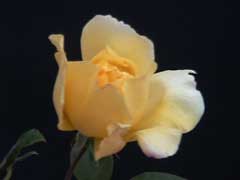 Blooming Rose (1.8MB QuickTime movie)
Animation Tools
Here are links to the products discussed in the column. Free or trial versions of most programs are available.
Boinx Software. Makers of the iStopMotion family of programs.
FrameThief Inc. Makers of FrameThief, a $40 animation program.
DVTimeLapse. This free program from Gary Fielke is a great way to start making time-lapse movies.
Loud Inc. Makers of Stop-Motion Junior, Stop-Motion Studio, and Loud Animation Studio.
Learn More: Animation Links
Google Directory for Stop-Motion Animation
The Clay Animation How-To Page