I'm really proud of this book.
Yes, I'm biased, but readers seem to agree: since the first edition came out in 2002, The Macintosh iLife series has become the world's top-selling book about iLife.
What's so special about it? For starters, the design and approach. If you're like me, you don't sit down and read a computer book from cover to cover. Instead, you use it as a reference, opening it up when you need instructions or background on a specific task.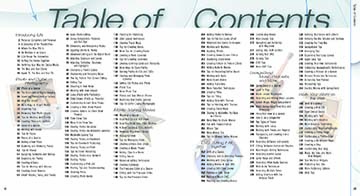 Download the table of contents (376K PDF file).
The Macintosh iLife '09 is designed to let you jump straight to the information you need. The book is a series of two-page spreads, each a self-contained reference that covers one topic. Each spread has its own design, with sidebars, glossaries, and illustrations supplementing the main text. Tabs on the edges of the page let you quickly flip through the book and jump to exactly the section you need.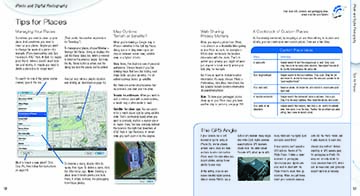 Grab a sample spread—here's one of several spreads devoted to the Places feature in iPhoto (510K PDF file).
What else makes this book special? Well, here's where I start tooting my own horn, but hey—you asked.
I've been using, writing about, and teaching the iLife programs since they debuted. I helped develop Apple's own iLife video tutorials, and I develop the courses for the Apple Camp iLife workshops. iLife has consumed my life—and I'm glad.
I'm not a computer book factory. I write this book. And I revise it every time Apple updates iLife. I love digital media and I love the way iLife has made it accessible to all of us, and I try to convey that enthusiasm in the book. It's more than a gig to me.
Improve Your iLife for $26.39
To buy The Macintosh iLife '09, visit your local bookstore or buy from Amazon for just $26.39 (that's 34 percent off the $39.99 cover price).
A note to K-12 educators. Do you use iLife in the classroom? You might be interested in The Macintosh iLife '09 in the Classroom, a special edition of my book created for K-12 educators. The teacher's edition is identical to The Macintosh iLife '09, but has additional sections written by Apple Distinguished Educator Ted Lai. Ted has years of experience in education and currently works for the Los Angeles County Office of Education.
Teachers learn by doing as the book steps them through projects that teach iLife basics. Choose from among the six full lessons and 20 mini lessons. The lessons include projects, student tip sheets, and more.
Amazon is selling the classroom edition of my book for $42.70, 15 percent off the $49.99 cover price.
The Obligatory Third-Person Bio
Jim Heid describes himself as a poster child for iLife: he has been taking photos, making movies, and playing music since he was a kid.
He began writing about personal computers in 1980, when he computerized his home-built ham radio station with a Radio Shack TRS-80 Model I. As Senior Technical Editor of one of the first computer magazines, Kilobaud Microcomputing, he began working with Mac prototypes in 1983. He began writing for Macworld magazine in 1984, and is now a Senior Contributor. He has also written for PC World, Internet World, and Newsweek magazines, and wrote a weekly, nationally syndicated technology column for the Los Angeles Times.
Jim is a frequent speaker at user groups, conferences, and other events. He has taught at the Kodak Center for Creative Imaging in Camden, Maine, at the University of Hawaii, and at dozens of technology conferences in between.
Jim and his standard poodle and mascot, Sophie, divide their time between San Francisco and the rugged coast of Mendocino, California.