Posted Sunday, March 21, 2010
Hi, everybody! Yes, it's been a few months since I've posted here. But that doesn't mean I've disappeared. My new job as the content manager for Photoshop and photography video courses at lynda.com has been keeping me busy.

I'm still spending lots of time on Flickr. And like much of the rest of the solar system's population, I'm posting a lot over at Facebook. In fact, my Facebook links page is packed with links to articles and sites relating to photography, music, movies -- all the stuff that iLife deals with.

Most of the links I publish on Facebook are available to everyone -- that is, you and I don't have to be Facebook friends in order for you to be able to see the links. If you use an RSS newsreader, you can also subscribe to my links so that they'll appear right in your newsreader.

Facebook has made it ridiculously easy to publish links to items of interest -- easier than adding posts here. For that reason, you'll find most of my activity on Facebook these days. To jump to the publicly viewable parts of my page, click the little badge below.

Jim Heid |

Posted Monday, January 04, 2010
Happy New Year!

Eirik Solheim shot segments of video from the identical location over a period of 12 months, then put them together into a kind of video timelapse movie.

Check out it out.



How he did it.
Posted Wednesday, October 07, 2009
You want to use the Places feature in iPhoto '09 to organize your photos by location. You don't have a camera containing GPS, but you do have an iPhone.

My Macworld colleague Rob Griffiths has the answer for you in this tip. In a nutshell: When you go to a new location, snap a photo with your iPhone, then tuck the iPhone away and shoot with your schmancy camera.

When you get home, transfer your iPhone "establishing shots" along with your other shots. Then copy and paste the location data from the iPhone shots to the other shots.

Read the tip for more details. And if you're looking for more great photography tips, here's a list of them on Macworld's site.
Posted Thursday, September 24, 2009
Last night, on the computer radio show that I co-host, I had the pleasure of interviewing photographer Chase Jarvis, who has just released a new book of photographs taken with his iPhone.

But the book, called The Best Camera is the One That's With You, is so much more than that. It's also one leg of a tripod that includes a fantastically cool iPhone app, called Best Camera, and a companion website where you can share and view iPhone photos.

It was an inspiring 30 minutes, and the interview archive is available for your downloading pleasure. Grab it now (12.5MB AAC file; plays in iTunes).
Labels: iphone photography
Posted Thursday, August 27, 2009
Popular Photography has published a fascinating and fanciful article on what photography will look like in 2060.

It is Sunday, July 18, 2060:

Old-Timers' Day, Yankee Stadium.

You're here with your old photoglove, getting some action shots from your seat in the upper deck without even putting down the $40 beer in your left hand. What would look to us like normal sunglasses are in fact camera-equipped goggles with a heads-up display on the inside of the right lens.

Pointing the index finger of the photoglove, which is impregnated with tiny pyramid-shaped crystal microlenses surrounding nano-sized image sensors, you draw a frame around each bit of action so that a window appears to float in front of your goggles.
It goes on. Good stuff.
Labels: photography
Posted Tuesday, August 18, 2009
Apple has released iPhoto 8.1, and the new version introduces a larger-than-ever hardcover book size: 13 by 10 inches. (The 11 by 8.5-inch hardcover designs are still available.)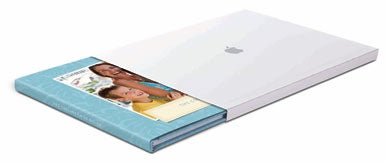 The new update also introduces some new book and greeting card themes.

As I say in my book, "Don't just print your photos. Publish them."
Labels: books, iphoto, photography
Posted Wednesday, August 12, 2009
"Hanging artwork on the wall without a frame is evil. It's like arranging roses in a vase without water."

So writes my friend Elin in London in a blog post that has inspired me to print and frame some of my favorite photos. I have a stack of unused frames, all victims of my profound ability to procrastinate. No more.
It's a good lesson for all of us who take thousands of photos that never appear on anything but a computer screen. Print them. Frame them.
Thanks for the inspiration, Elinesca! :-)
Labels: photography