Friday, May 09, 2003
Posted 2:46 PM

Radio Radio: A Couple of Heid Interview Archives

Hosts of computer radio shows continue to make the mistake of thinking that I'd make a good guest. I've been on a couple of shows recently, and archives of those programs are now available. Having trouble sleeping? Take a listen.

Digital Village, May 3. Hosts Ric Allan and Doran Barons grill yours truly and Bob LeVitus about the new iTunes 4 and more. Listen with RealPlayer.

Your Mac Life, April 23. Host Shawn King and I chat about iLife and about "The Macintosh iLife" book/DVD. Download an MP3 or stream the archive using QuickTime.

I always have fun doing radio and TV. On many Wednesdays, I co-host Point & Click Radio, a weekly show that airs on Mendocino County Public Broadcasting.



Posted 8:49 AM

Ken Burns: A Little Shakey

A reader writes with an iMovie 3 question: "When I try to do a zoom with Ken Burns I always have problems with chattering, aliasing and a bouncing of the picture, almost like the earthquake effect in iMovie. I am using photos that were recorded in the high end of the resolution scale on my camera. I have tried slowing the speed way down, and a small zoom, still with the same problem. No matter what I try the process does not work for me. Any ideas?"

I've seen this problem sometimes myself. An Apple representative acknowledged that other users have reported some shakiness, and says the company is "looking into refining the feature even more."

In the meantime, you might try one of the third-party pan/zoom add-ons that are available for iMovie. I write about these on page 129 of "The Macintosh iLife." My favorite is LQ Graphics' Photo to Movie, which not only provides smoother moves than does Ken Burns, it also provides "ease-in" and "ease-out" features that make pans and zooms less jarring. Highly recommended.




Tuesday, May 06, 2003
Posted 8:58 AM

iTunes 4 and the Democratization of Internet Radio

iTunes 4 is best known for its music store, but the new version also promises to have a profound effect on Internet radio.

I'm referring to the music sharing feature, which enables you to share part or all of your music library so that other iTunes users around the world can tune in and listen.

I've written about iTunes music sharing in previous posts. But there's a new trend to report: the birth of Web sites that act as iTunes listening portals -- jumping-off points for exploring other users' shared music.

One such site is ShareiTunes. This site goes beyond the ServerStore program I mentioned a few days ago by adding intelligence: before listing a shared music library, the site checks to verify that the library is still out there and available for listening. That way, you don't get a lot of "not responding" error messages because someone turned off music sharing or simply shut down at the end of the day.

When I look at a site like ShareiTunes, I see a new kind of Internet radio: a peer-to-peer Internet radio where ordinary music lovers make their music available simply because they want others to enjoy it. No profit motive, no (probably unrealistic) business model. Just someone saying, "I love this music -- maybe you will, too."

Personal Internet radio has already been available for some time. The geek-inclined can set up Shoutcast servers on their systems or Apple's own QuickTime Streaming Server. And if you're willing to pay $10US or more per month, you can have your own Internet radio station on Live365. But, speaking of unrealistic business models, Live365 inserts commercials into your stream every now and then.

iTunes music sharing eliminates these technical and financial hurdles. Want a radio station? Click a check box.

This instant broadcasting capability has some fascinating ramifications. Currently, Internet radio is struggling to survive in the face of Digital Millennium Copyright Act (DMCA) legislation and the greed of the recording industry, which wants to extract blood from the Internet broadcasting stone by charging exorbitant royalties on every song that's streamed. (See Save Internet Radio for details.)

How does the record industry plan to extract royalty payments from us iTunes users? It can't. Just like that, iTunes 4 has changed the rules of the game.

Of course, iTunes 4 is minor-league streaming. You can't have more than five simultaneous listeners, for example. But what iTunes lacks in punch, it makes up for in numbers. Thousands -- soon, millions -- of people now have the ability to run their own personal Internet radio stations.

Imagine that: millions of people sharing tens of millions of songs. Not because they need something to play in between commercials. Not because they're trying to sell you CDs. Not because they want to steal from their favorite artists. But simply because they love their music, and they're thinking maybe you will, too.




Monday, May 05, 2003
Posted 7:11 AM

Meanwhile, Back in iMovie...

While Apple touts its well-deserved success with the iTunes Music Store, there are developments elsewhere in the iLife world.

Virtix, makers of some extremely cool effects add-ons for iMovie and other video-editing packages, has just added another. The company's iBubble greatly enhances iMovie's text-titling features.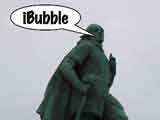 With iBubble, you can position a text title anywhere within the video frame. You can also -- and here's where the funky name originates -- create cartoonist-like speech bubbles and thought bubbles, as shown here.

So while those 472 songs you bought are downloading, check out iBubble and the rest of Virtix's product line. And stay tuned to this channel for reports on the new iPods, much more on iTunes 4 and its music store, and more.




Sunday, May 04, 2003
Posted 3:08 PM

Use a Shopping Cart for Binge Buying

When you go into a store, chances are you don't just buy one thing. Most of the time, you grab a shopping cart so you can haul all of your purchases to the cashier at once.

It's true that one of the beauties of the iTunes Music Store is that you can buy a song and begin downloading it with just a click or two. But iTunes 4 also provides a shopping cart, and it's a better way to shop when you're picking up several songs.

In its shopping cart mode, iTunes doesn't download each purchased song immediately. Instead, it slings them into a shopping cart. When you're ready to check out, a couple of clicks buys the songs and begins their download.

Shopping for multiple tunes is more convenient in shopping cart mode. Browsing the music store is faster, too, since iTunes isn't download a song in the background while you shop.

To use iTunes' shopping cart mode, choose Preferences from the iTunes menu, click Store, and then click the option labeled Buy Using a Shopping Cart. You'll notice the Buy Song button that appears next to each song now reads Add Song: click it to add a song to your cart.

To buy the songs in your cart, click the Shopping Cart item in the iTunes source list, then click the Buy Now button near the lower-right corner of the iTunes window.

I'm spending entirely too much money.